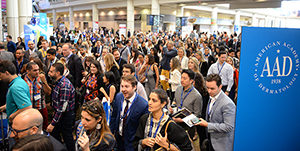 The American Academy of Dermatology's Annual Meeting is planned to comprehensively address the nine content areas within the Dermatologic Core Curriculum and provide dermatologists and other dermatology health care professionals with high quality educational opportunities for the optimization of dermatologic knowledge, competence and performance.
This comprehensive meeting provides learners with opportunities to:
Review and apply basic knowledge and skills in medical dermatology, dermatologic surgery, pediatric dermatology, and dermatopathology.
Update their knowledge about recent advances in the diagnosis, management and treatment of diseases of the skin, hair, nails, and mucous membranes.
Assess the relationship of evidence-based diagnostic approaches and therapies with new dermatologic treatment developments.
Self assess current practice management skills and develop strategies for improving these skills. Develop new skills to improve their everyday practice of dermatology.
Experience the meeting anytime, anywhere!
A lot of valuable information will be covered at the AAD Annual Meeting, from groundbreaking research to the latest in patient care. Whether you can't attend or want to review your favorite sessions, the AAD's Annual Meeting On-Demand Recordings allow you to experience the meeting anytime, anywhere — with access to over 100 recorded sessions!